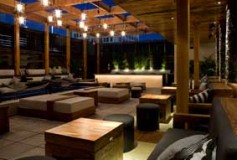 Established in the nightlife, and restaurant industry since 1989, DLD Contractors has been constructing Los Angeles' top nightclubs, luxury commerical buildings and custom restaurants.Take a look at one of our previous nightclub projects below.
A Business built on Quality and Reliability!
Project: The Colony. Owner: SBE. Interior designer: ICRAVE / Los Angeles; Lionel Ohayon, Anthony Mrkic, Paola Tassara, Jessica Marx. Architect: AMA (Anthony Mrkic Architect – Los Angeles). Contractor: DLD Contractors. Lighting: Dougie Lazer (theatrical) Lighting Design Alliance (architectural). Engineering: John Labib + Associates (structural). Landscape: West Coast Landscape Management. Graphics (if shown): Custom art/murals by ICRAVE. Furniture dealer: Custom furniture custom designed by ICRAVE (various vendors). Photographer: John Ellis.
Specializing in the finest of Nightclub Construction

Our pristine history in Commericial Construction make us a top choice.

Allow us to build your next Restaurant project